Paolo Alderighi and Stephanie Trick
Four-Hands Jazz Piano Duo

---
Welcome to the website of Paolo and Stephanie!
This site contains information about the two-pianist act of Paolo Alderighi and Stephanie Trick, who concertize together in four hands on one piano.
With their enthusiasm and passion for classic jazz, Paolo and Stephanie hope to make a small contribution to spreading the joy of this music.
News and Announcements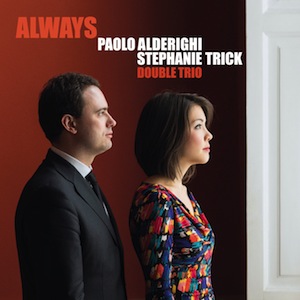 Their new CD,
Double Trio Always,
is now available!  See the CDs page for more information.
"I love to hear Stephanie and Paolo together. They are an inspiration. Such sympatico! Such back-and-forth! Individually they are marvelous musicians - we've known that, but together they play 4-handed stride as it's never been done. Brava, bravo!"

--Dick Hyman