CDs
Broadway and More
Broadway and More
is Stephanie and Paolo's first album on two pianos, and presents original arrangements of Broadway shows from the '20s to '50s, as well as popular songs from Italy, England, and the US.
Two-piano studio recording.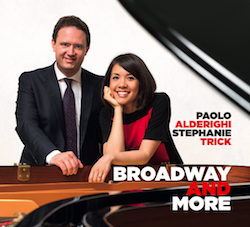 Double Trio Always
In Double Trio Always and Double Trio Live 2015, Stephanie and Paolo present their four-hands duo with a rhythm section. These albums feature Stephanie and Paolo's concept of the "Double Trio," where they play four-hands on one piano with the rhythm section, and also leave room for each other to play alone with the trio. Even if the latter formation can't be considered four-hands piano playing in the traditional sense, the two pianists decided to use this approach quite often because it produces a distinctive musical result, unlike that of the standard jazz piano trio with one pianist, mainly due to the continuous juxtaposition of two styles of improvisation.
Studio recording with bassist Roberto Piccolo and drummer Nicola Stranieri.
Double Trio Live 2015
Live recording from a concert with bassist Marty Eggers and drummer Danny Coots.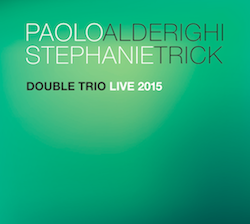 Sentimental Journey
Sentimental Journey
 was recorded in Biella, Italy, and was released in June 2014.  It is Stephanie and Paolo's second album together and features their own arrangements of swing standards, songs from the New Orleans repertoire, and an original boogie. Here is a 
review
 of this CD by Lynn René Bayley, which will appear in the November/December issue of the classical and jazz magazine, 
Fanfare
.
Two for One
Two for One
was recorded in March 2012 in Biella, Italy, and released in July 2012.  It features the repertoire of the Swing Era, with some blues and ragtime as well. 
Read a review
of the album on JAZZ LIVES.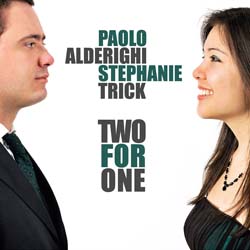 Stephanie and Paolo also have the CDs available for purchase at their solo and duo concerts. 
© AT Music Productions LLC